Heightened Technical Expectations of US Regulators
By: Crystal Noe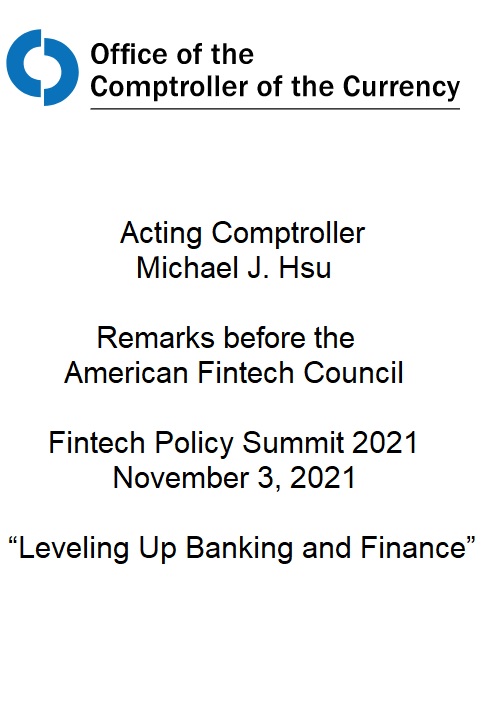 Previously, technology was seen as a means to an end in the world of compliance. But, as noted by the Office of the Comptroller of the Currency (OCC) Acting Comptroller, Michael J. Hsu, the convergence of compliance, regulations, and technology is necessary. This aligns with the U.S. Department of the Treasury / OFAC's recent guidance on compliance officers having technical expertise.
On November 16, 2021, Hsu wrote "I have found that there are very few people who are fluent in banking and finance, technology and coding, and supervision and regulation. And yet, the optimal outcome likely requires taking the best attributes of each world and synthesizing them to enable a modern, safe, sound, and fair financial system." (From the recent OCC article: "Modernizing the Financial Regulatory Perimeter".)
If you analyze #SettlementLetters / Fines / C&Ds/ etc. more-often-than-not the compliance lapse(s) was been rooted in failure to properly understand, implement, validate or apply technology in a manner commensurate with the company's risk profile or regulatory guidelines for responsible innovation. And, if we are honest with ourselves, most compliance officers gloss over the rich technical details contained in settlement letters as it doesn't strike a chord with them (its not their lingo) and most engineers don't read regulatory pieces because its out of their wheelhouse.
The time has come to expand compliance skills/staff to include a fundamental understanding and appreciation for the technology, engineering and data that compliance officers rely on each day to fulfill their compliance obligations. (And vice-versa.)
Keep in mind, HKMA and MAS have made similar moves to become more technically versed in compliance systems and data.
Keywords:
compliance officer, compliance, banking, technology, finance, OCC, compliance technology, compliance technology risk, anti money laundering, compliance, banks, Payments, OCC, FDIC, regulatory compliance, PEPs, Politically Exposed Persons, NGO risk, ATM, Automated Teller Machine Operators, AML, BSA, Exam Manual, Audit, FFIEC, regulatory reporting, Regulators, Customer Risk, Unintended Risk Bias In Compliance, information technology, PEP Screening, Crystal Noe Knows Compliance, auditors, audit, bank audit, AML compliance, AML Audit, AML Policies, FIBA , FIBA, ACAMS, CRYPTO, NFTS, VASPS
Link to OCC document: https://lnkd.in/dY8gp_nS