Check Out Our Upcoming Book & Free Guides. We Will Launch Courses in 2023!
The guide is designed for compliance resources, engineers, and compliance product managers. It teaches you all of the various areas to consider when designing a full-proof geocontrols program that mitigates your risk and keeps your business out of the penalty box.
Video and guide describes how to reduce compliance penalties. It covers voluntary disclosure, root cause analysis, peripheral testing, short/long term fixes and lookbacks.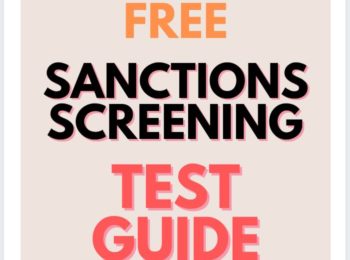 Will provide insights and test examples for all levels of Sanctions Screening Expertise (Beginner, Intermediate, Advanced)
SCREEN THIS
AVOID THAT
Screen This Avoid That, by Crystal Noe, distills more than two decades of Regulatory changes and requirements within the Sanctions space. She guides the readers through OFAC'S ever-increasing regulatory expectations, building the reader's knowledge as she provides a walk-thru of the OFAC trilogy, their Framework, Enforcement Guidelines, and Virtual Currency Guide. Provides an extensive list of data to apply for screening and sanctions analysis. Then she cites examples from precedence setting OFAC settlements that have shaped today's OFAC requirements. This book is the first of its kind, and provides the readers with a list of critical controls to implement, audit, and validate.
What Need Does This Book Solve For?
The book aims to fill the void of educational materials within the sanctions compliance space; predominantly the void of materials explaining today's regulatory expectations, the catalyst for those expectations, and the pitfalls to avoid when designing your sanctions controls (based on historical OFAC violations and settlements).
How Can It Help You?
It provides a historical view of sanctions compliance, and how regulator expectations have evolved over time citing OFAC settlements, violations, and guidance materials. It then distills those regulatory expectations into technical best practices that can be understood by both technical and non-technical resources.
Is this Book for Technical or Non-Technical People? Both!
Non-technical compliance resources (e.g. policy heads, counsels, compliance officers, etc.) will learn "what compliance looks like" from a technical perspective, gaining a better understanding of what to include in requests to their technical partners as well as what types of questions to ask.
Technical resources (e.g. engineers data scientists, engineers, vendors, analysts, etc.) will gain a fundamental understanding of "what building a compliant process" looks like, the linchpins to sanctions compliant engineering, and past engineering mistakes of others to avoid.
It is hard to believe that compliance has been grappling with technical controls for more than twenty years, yet training materials still do not exist in this area.
– Crystal
Screen This.
Avoid That.
A first-of-its-kind book by Crystal Noe, a sanctions compliance pioneer with more than 20 years of experience in Compliance. She has led global screening programs for Citibank, for Meta (including Facebook, Instagram, WhatsApp), and helped clients across the globe.
🔔📚 Must Have Sanctions Controls Book!! 📚🔔
Learn What to Screen
Why to Screen It
Other Necessary Controls
Past Mistakes of Other to Avoid
Read This Book If You Are A..
Sanctions Compliance Professionals
Sanctions Vendor or Product Manager
Sanctions Audit, Counsel, or New Examiner
Is this You? If so, you would benefit from this book…
😳 Collect lots of data, but only screen some of it? 😳
🌍 Join a global org with global sanctions needs? 🌍
🚧 Want to Avoid Regulatory Fines & Bad Press? 🚧
😾 Tired of hearing "do we need to collect this"? 🙀
🦄 Feel like your Engineers don't Understand 🦄
💻 Are you a Sanctions Engineer or Product Manager?💻
😵Feel like Sanctions Compliance speaks in circles 😵
📀 New to Payments & Need to Comply📀
This book can help you understand today's sanctions compliance needs from a technical perspective, providing you the legal precedence for each of those requirements. The book can help both, technical and non-technical, sanctions resources see the world through a shared lens.
📅 SIGN UP FOR THE BOOK WAITLIST TODAY 📅
It Is The First of Its Kind
Competitive Edge, Learn from My 20 Years of Experience
Sanctions regulators, legal counsel, compliance officers, auditors, engineers, risk professionals alike, regardless of your role or tenure within Sanctions Compliance, you likely have already realized that most Sanctions related articles focus on the legal and regulatory interpretation of sanctions compliance. Nothing out there will tell you what that looks like from the perspective of systems, rules, or technical controls. There is no check list you can download.
Simply put, there are no schools, degrees, or certifications that can prepare you to design, audit, automate, or validate the technical aspects of a Sanctions program. And, for my non-tech readers, if you have ever asked your technical resources to build, query, or fix a compliance process or tool, you quickly realize there is a large communication divide, or you realize this after-the-fact as new gaps appear in the recently built solutions. My book is hoping to bridge these gaps.